Ann Arbor Chronicle:
AATA rejects anti-Israel ad on buses for second time
ANN ARBOR.com
January 4, 2013
At:
http://www.annarbor.com/news/aata-rejects-anti-israel-ad-on-buses-for-second-time/
The board met Thursday to consider the request. AATA was under a court order to reconsider the ad, which it first
rejected
more than a year ago. AATA considered the ad Thursday under a revised advertising policy.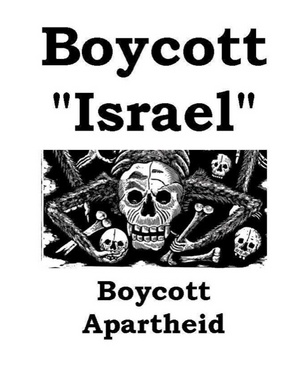 The rejected proposed advertisement.
AATA's original rejection of the ad
prompted a lawsuit
on Coleman's behalf from the American Civil Liberties Union, which alleged AATA violated Coleman's First Amendment right to free speech and 14th Amendment right to due process.
In rejecting the ad in November of 2011, AATA said the ad violated AATA's policy prohibiting any advertisement that "defames or is likely to hold up to scorn or ridicule a person or group of persons."
The ad features the words "Boycott 'Israel,' Boycott Apartheid," with the word Israel in quotation marks. It includes a cartoonish black-and-white image that depicts a skeleton-like figure holding a skull in its right hand and a bone in its left….
*********************************************